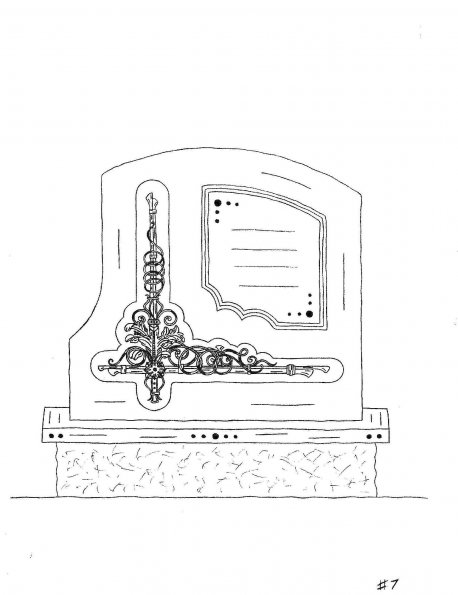 The Arid-Art Series
#7
The colors of the materials used to create the monuments in this series are subtle, soft, Earth-Tone colors.
Weathering Steel, which is the main construction material, develops a soft chocolate brown color with it's protective copper and iron oxide (rust) patina.
Copper, when used as a background material, will have a soft rich green patina.
Bronze elements will start out with a golden brown patina, which will darken and may turn green, depending on the surrounding atmosphere.
Stainless Steel accents provide timeless silver detailing.
The hand-forged and fabricated materials outlined above, are mounted on top of a rough-cut stone base. This rough-cut stone base has a coordinated reddish-brown color. When water runs off weathering steel, it creates rust stains on what is below it. The rough-cut stone base below the weathering steel, not only accepts the rust colored water runoff, the added coloring adds to the look of the stone.
Monuments in the Arid Art Series are sculptural, interesting, well detailed and they use Weathering Steel. Weathering steel is new to monument building. Because weathering steel is new to monument building, please do two things. 1. Click on the tab above titled "about our company" and scroll down to the short section describing weathering steel. In a minute or two, it will educate you about the material. 2. Cemeteries all have different regulations. Because weathering steel is a construction material new to monument construction, ask your cemetery if weathering steel falls within their acceptance guidelines?
Please feel free to refer your cemetery to me with any questions they may have.
Sincerely, Robert Walsh
Ornamental & Memorial Ironwork
Urns
Minneapolis
---